Omar Mirza and Khurram Mehtabdin are New York-based doctors with expectedly demanding work schedules. Yet, the two manage to find time for their passion project: a comic series called Zindan (Urdu and Persian for prison). Their comics draw on the rich history of the Mughal Empire to introduce South Asian superheroes.
It might strike some as curious: how do two young doctors from New York end up telling fictionalised tales about Mughal India?

After speaking to them it becomes clear that their identity as Pakistani-Americans has largely informed their decision to explore this theme.
"We wanted to romanticise South Asian history," says Mehtabdin.
"For us it was an opportunity to reshape the narrative. Unfortunately when you see TV and the news these days, it's a very negative portrayal of that part of the world. So we wanted to show that… there are heroes there too," says Mirza.
"When you think of heroes you think of New York [based] white, Caucasian [characters] — it's very America-centric. We wanted to say there are heroes all over the world, so kids can look up to people who look like them. You know, brown skinned, dark bearded, long-haired heroes," he adds.
The need for diverse superheroes is something the two felt first-hand during their childhood. Let's take a step back and look at their origin stories.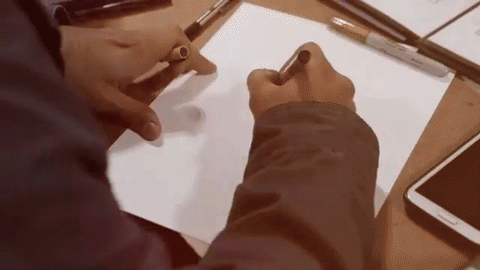 It is the annual Association of Physicians of Pakistani Descent of North America (APPNA) convention. The event is brimming with energy as doctors, their families and friends socialise, shop and attend talks.
Mirza has just wrapped up a discussion named, 'From hospital wards, to story boards'. He is now at the Zindan stall, which features prominent 10-feet-tall banners of the comic's characters Zain and Timur.
A child named Taimur, who is about four years old, sees the banner and runs up to the booth.